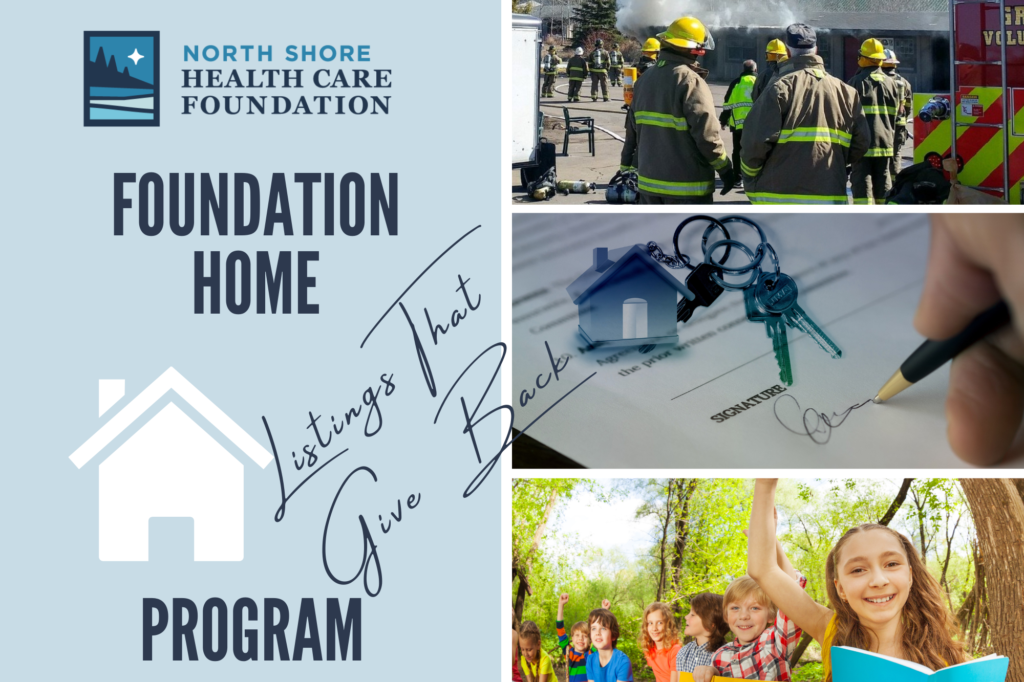 The North Shore Health Care Foundation (NSHCF) is teaming up with local real estate leaders in an innovative new partnership that invests in local health. The Listings That Give Back: Foundation Home Program is a project developed by the Foundation in which local real estate professionals donate a percentage of the commissions received from the sale of selected properties to invest in local health care, emergency services, healthy living and education programs, and prevention initiatives.
Real Estate Brokers Mike Larson of Lutsen Real Estate Group, Kim Wolff of Timberwolff Realty, Virginia Palmer of Coldwell Banker North Shore and Mike Raymond of Red Pine Realty, have all committed to piloting the Foundation Home Program to help build capacity in the community with the North Shore Health Care Foundation – ultimately allowing for more dollars to be extended to health initiatives in Cook County. Under the Foundation Home Program, each brokerage aims to list a minimum of four Foundation Home properties per year.
"The Foundation is tremendously grateful to our local real estate leaders for their community stewardship and stepping up in this significant way," said Valerie Marasco Eliasen, Executive Director. "A dollar donated to the Foundation has an incredible ripple effect in the community. Establishing the Listings That Give Back: Foundation Home program will have positive impacts for years to come and help us develop solutions to key community health issues."
The Foundation is a respected community leader which serves as a convener, incubator and catalyst, educator, partner, funder and advocate for access to equitable health in Cook County. North Shore Health Care Foundation has given over $1.1 million in grants since 1995, and develops programs and services where gaps exist in our rural area. The Foundation helps support:
North Shore Health Hospital & Care Center
Sawtooth Mountain Clinic & Grand Portage Health Center
Cook County Public Health & Human Services
Numerous community health programs
Nine local volunteer fire departments
Four EMS units
Search & Rescue
Law Enforcement programs
Emergency Management
Emergency Chaplaincy Program
Care Partners of Cook County for seniors services
Cook County Higher Education for health care education
Children's mental health and substance misuse programs
Cook County MN Restorative Justice, and more.
Foundation Home Program real estate partners have committed to listing a minimum of four Foundation Home properties per year. Participating local Real Estate Professionals include: