Community donations to the COVID-19 Medical Response Fund have surpassed the $20,000 North Shore Health Care Foundation matching threshold.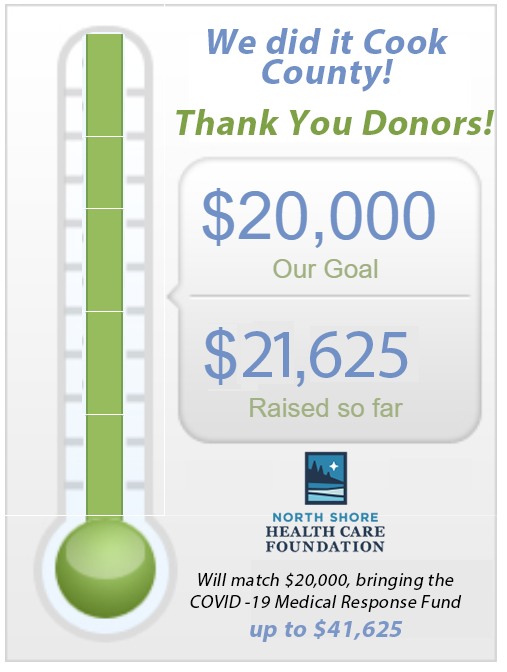 Thanks to many generous donations from the community, including a $10,000 donation from Wayne & Pamela Wesala, the fund has now reached $21,625, and the North Shore Health Care Foundation (NSHCF) will contribute an additional $20,000. The COVID-19 Medical Response Fund will assist the health partners of the Cook County Emergency Operations Incident Command Team secure resources needed in the fight against, and response to, COVID-19 locally.
"We are all so incredibly grateful to each and every person who has contributed to this fund, as well as to North Shore Health Care Foundation for supporting our community's response efforts," said Incident CoCommander/Public Health Supervisor – Cook County Public Health & Human Services. Grace Grinager.
The North Shore Health Care Foundation is an independent, registered non-profit 501(c)(3) that works to address health care gaps and needs in Cook County and support local health and emergency services. The Foundation was approached in April to collect monetary donations on behalf of the Cook County Emergency Operations Center.
"We believe in the possibilities of people, organizations, businesses and governments working together to create healthy communities for all in Cook County," said NSHCF Executive Director Valerie Marasco Eliasen. "So, when the opportunity arose to establish the COVID-19 Medical Response Fund, the Foundation was pleased to direct $20,000 of our annual grant funding to leverage community donations and make sure our providers have the resources they need to respond locally and continue operations during this challenging and unprecedented time. This is one example of how the Foundation was able to be nimble to address gaps and needs in Cook County."
The funds raised will be issued as grants to the Emergency Operations Center upon request, as needed, for items such as personal protective equipment (PPE), tests/testing-related costs, behavioral health response costs, equipment and materials related to public health response, and possible vaccine-related costs once a COVID-19 vaccine is developed and can be distributed locally. To date, the health partners have not yet requested any of the funding. The incident command team is carefully considering when to use the Medical Response Fund based on several circumstances, including if Cook County experiences a surge in confirmed COVID-19 cases and if the County can first use available 2020 CARES Act funding. It is unknown whether CARES Act funding will be available in 2021.
According to Grinager, the local COVID-19 medical response funds raised are expected to be needed in the near future. "They absolutely will be needed; this is not even a question for me."
The fund will remain open for additional donations if anyone would like to contribute.
---
Contact(s):
Valerie Marasco Eliasen
Executive Director – North Shore Health Care Foundation
218-387-5700
NSHCF@boreal.org
Grace Grinager
Incident Co-Commander/Public Health Supervisor – Cook County Public Health & Human Services
218-387-3605
grace.grinager@co.cook.mn.us